2021 Durango Hellcat Announced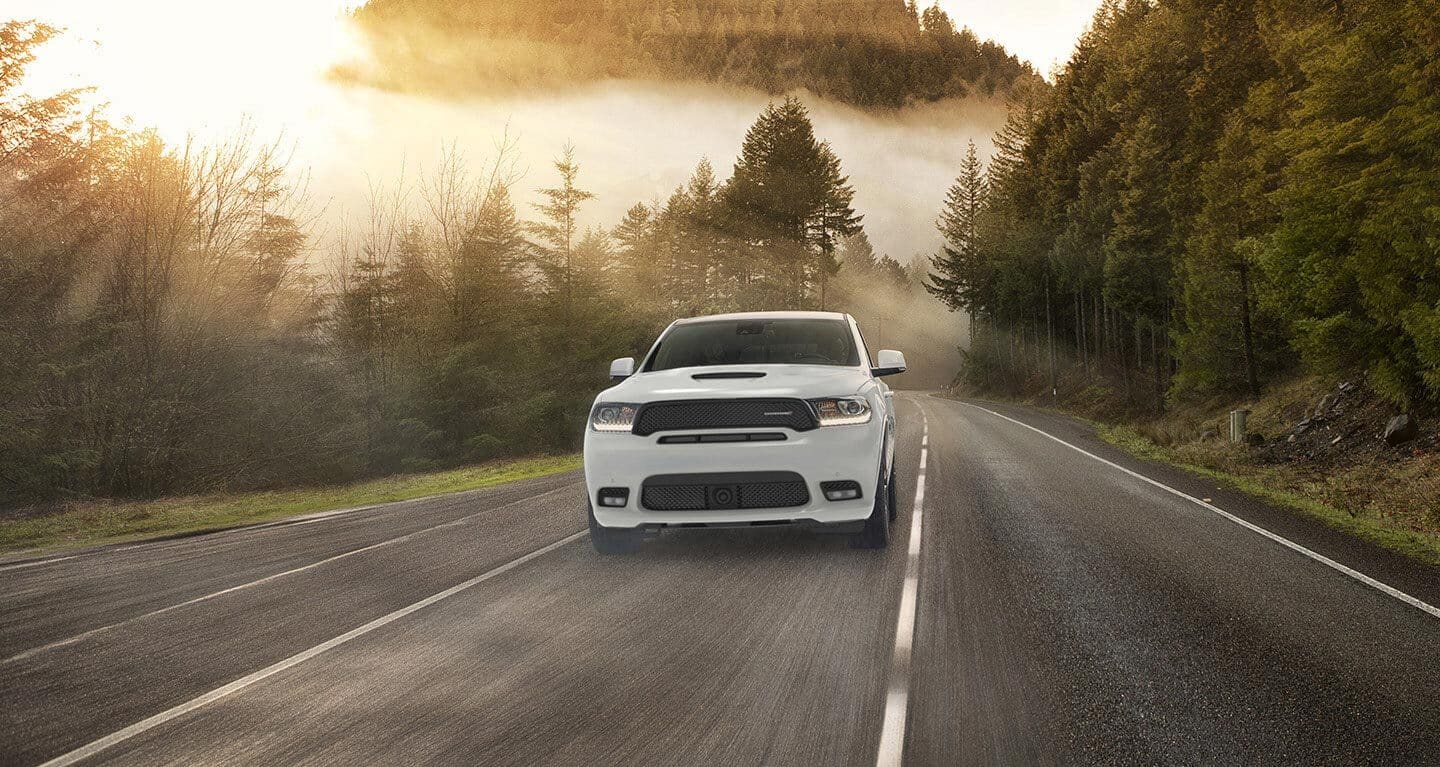 2021 Durango Hellcat Announced
by Interstate Dodge Chrysler Jeep Ram
Known as the muscle car for people with families, the Dodge Durango has announced a Hellcat version inspired by its Challenger and Charger brethren. The all-new Durango Hellcat is powered by a tried and true 6.2-liter V8 that pumps out a mind-boggling 710 horsepower and 645 lb-ft of torque, which allows the Hellcat to go from 0-60 mph in 3.5 seconds or less while reaching a top speed of 180 mph. Not only is the Durango Hellcat the most powerful SUV ever its also one of the best equipped as it comes with a Uconnect 5 system and a 10.1-inch touchscreen. There is a ton to go over with the 2021 Durango Hellcat. Take a journey with us as we go over it all!
Power is the Name of the Game
The 2021 Durango Hellcat pushes the boundaries of what an SUV can do. It's powered by a supercharged 6.2-liter HEMI Hellcat V8 that delivers a best-in-class 710 horsepower and 645 lb-ft of torque, which mates with a Torqueflite eight-speed automatic transmission. There are also design improvements that improve the performance of the Durango, such as a new front fascia, a brand new chin splitter, and a refined oil cooler duct. The unique rear spoiler helps to create an aerodynamic balance thanks to the new front end design. The engineers of the Durango have improved the handling with the Hellcat as there are several race-inspired technologies available as well as Brembo brakes. All of this results in power numbers that have never been seen on the Durango.
A Hellcats Heart
When you push the pedal down, the Durango Hellcat is designed to deliver attention-getting performance while also giving you smooth and refined power flow, which makes it perfect for your daily driving duties or when you're cruising down the highway. There are plenty of critical components that contribute to the impressive power of the Durango Hellcat, including a cast-iron engine block that has water jackets in between the cylinders for excellent cooling. There is also a forged-steel crankshaft and a specifically tuned crankshaft damper, which has been burst tested to 13,000 rpm. This massive and high strength engine is further bolstered by seven available driver modes, including Auto, Sport, Track, Snow, Tow, Eco, and Valet.
Performance Inspired Interior
Along with its impressive performance capabilities, the interior of the 2021 Durango Hellcat delivers advanced technology and aggressive styling. The inside of the Durango Hellcat feels wider thanks to a completely redesigned instrument panel and center console, which are easy to use. Tech features can be seen throughout the cabin as the Durango Hellcat comes with a Uconnect 5 System and a 10.1-inch touchscreen. There is also a redesigned integrated center stack switch bank mounted below the screen and heated and cooled front seats, which are incredibly comfortable. Perhaps the best thing about the Durango Hellcat interior is the new flat-bottom performance steering wheel with paddle shifters lifted directly from the Charger and Challenger models.
Modern and Aggressive Styling
The exterior of the Durango Hellcat has been wholly refreshed while maintaining its muscular body and aggressive styling. Several design cues are taken from the Charger Widebody, including the brand new front fascia, LED headlamps, LED daytime running lamps, and a large variety of wheel options. Additionally, there is a two-piece satin chrome SRT Hellcat fender badges that flank both sides of the massive SUV. When you select the SRT Black Package, these badges turn to a Neutral Grey Metallic finish. All-season tires come standard with three-season tires being an available option.
Get the new Dodge Durango at Interstate Dodge Chrysler Jeep Ram
The Dodge Durango Hellcat is scheduled to be released in the early part of 2021, and you can get yours right here at Interstate Dodge Chrysler Jeep Ram! In the meantime, be sure to head down to the dealership and check out all the latest Durango models. If you find one you like, be sure to ask our excellent sales team for a test drive! If you can't make it down to the dealership, you can check out our entire Durango inventory
here on our website
!